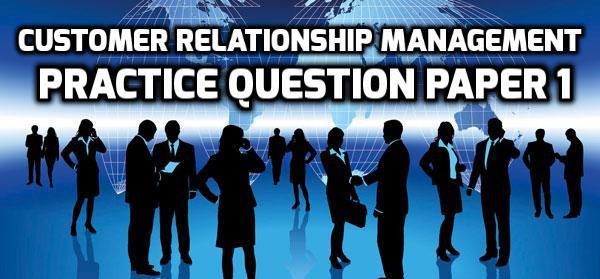 Customer Relationship Management is a customer-oriented feature which involves using technology to organize, automate and coordinate sales, marketing, customer service and technical support. Customer satisfaction plays an important role in customer relationship management.
Here we present Customer Relationship Management Practice Question Paper 1:
1) a) Define CRM. Explain the formation process of CRM.
b) How does globalization affect CRM?
OR
Q.1) a) Explain:
i) Building loyalty to increase customer lifetime value and CRM rollout in organization
ii) Process model for effective relationship management in financial services.
b) Explain CRM as a management concept.
2) a) Explain:
i) Aggregate or macro level data mining.
ii) Individual or micro level data mining.
b) What is knowledge management? Explain it with focus on CRM.
OR
Q.2) a) What is the impact of technology on existing CRM solutions? Explain the emerging impact of eCRM on CRM.
b) What is eCRM? Explain the 6 E's of eCRM?
Q.3) a) Explain the CRM optimal allocation problems.
b) Enumerate the relationship marketing strategies being pursued by various banks.
OR
Q.3) a) Explain the CRM business cycle.
b) What is the role of CRM in the context of SCM?
Q.4) a) Explain the following elements of a questionnaire:
i) Question design
ii) Perils of paper
iii) Question types.
b) Explain the relationship chain for creating value in business markets.
OR
Q.4) a) What are the 5 questions any business should ask itself while organizing for CRM?
b) Write a note on:
i) Next best contact
ii) Company's requirements for contact management.