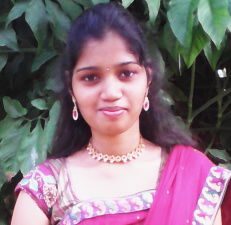 Name – ANKITA ANIL GODKAR.
College name – K.J.SOMAIYA COLLAGE OF ARTS AND COMMERCE
Course Name – B.B.I. ( B.COM IN BANKING AND INSURANCE)
Which year – FIRST  YEAR
Rank  in F.Y. – FIRST (1ST)
GPA/PERCENTAGE – 7/79%
Tell us about yourself, your background, why did you join BBI and what do you plan to do after BBI?
Ans. I am ANKITA GODKAR  and I am studying in F.Y.B.B.I. from K.J.SOMAIYA COLLAGE  OF ARTS AND COMMERCE.
I am from middle class family and I have a younger sister.  So we both are girl child to my parents.  So ofcourse, as an elder it is my responsibility to look after my parents.
I just joined BBI because I wanted to do my career in banking.  From childhood it is my wish that I have to become bank manager because whenever I go to bank in my childhood days I saw manager sitting in separate room and he has a lot much authority towards banking procedures.  That means he is a boss of that bank.  So from those days I set my goal that I have to become manager in bank and I thought BBI is a 1st level which will help to achieve my goal.
After BBI I would like to do MBA and no another future plans are made yet.
How does it feel to be a topper of the collage in semester exams?
Ans.  It feels very delightful as well as proud at the same time.  But I was surprised when results were out because I was sure that i'll pass but not sure that I will come first in BBI.  So it was such a memorable moment for me.  I am not so much talkative and also I had just few friends but after becoming topper of BBI, so many students of BBI started to know me.  They started to talk to me on studies as well as on other subjects.  They have become my friends now.  I now have lot much of friends.  So, I am really happy.
Whom will you credit your success to?
Ans. First I give credit to my success is to all my teachers of BBI because of all teacher's teaching style was very nice and only because of them I am topper in semester exams.
Secondly, I give credit to my family who encourages me to solve problems in my normal life.  They didn't put burden on me that you have to get this much marks or that much grade.  They just used to tell me that do whatever you like but do it by your heart and we are all with you.
Did you start preparing from the first dy of your F.Y.?
Ans. No, ofcourse not.  Nobody can start study in their initial days of college because in these days we make new friends, we understand the subjects as well as teaching style of teachers.  At that time all is new for us – new friends, new teachers, new subjects.  So, I did not start studying from the first day but after a one and half month later I started studying topics from the syllabus.
How did you study for semester 1?
Ans. In F.Y. and for sem.1 there are total six subjects which are ECO., P.O.M., E.M.F.S., I.T., Q.M., and E.C.  So I just started from practical subjects i.e. Q.M.  I used to daily solve Q.M. problems apart from that I started studying theory subjects one by one.  First I took E.C. because it's very easy subject.  All the syllabus is very easy  to understand and by heart.  Then I started studying E.M.F.S. and P.O.M. i.e. All the theory given by teachers on writing as well as from books.  Then I started doing I.T. because it contains some difficult concepts related   to computer.  Therewere lots of technical words used in book of I.T. Lastly, I started studying of ECO. This was also very easy because it contains Micro economics which were studied in 12th.  So there was no difficulty while studying Eco. Diagrams are also my favourite.  So I used to make diagrams in all questions asked in Eco. Paper.
Which are easy subjects in sem.1?
Ans. In sem.1 E.C., Eco .and Q.M. is very easy subjects because we can relate with it very easily.  In E.C. there are all communication concepts which we are daily using.  In Eco. As I told all are from 12th i.e. Micro Economics and In Q.M. all the mathemetical  problems.  For which we only have to do practiceof various sums.  As a BBI student we must  like maths i.e. Q.M.
Any special way of writing the answers? Do you write answers bullets points or in paragraphs?
Ans. No, there is not a special way of writing the answers but whenever I write answers I start from introduction then I use bullet point and their explanation in paragraph and lastly the conclusion.  Sometimes I add diagrams while writing answers.
How do you crack case studies in theory and practical subjects?
Ans. I just try to relate with that situation which means if I am in thatplace and I have to do something then what can I do? Then I get answer from my mind.  Also I use my brain as well as I ask in my friend circle and teachers.
Did you draw any diagrams in any paper? Is it mandatory? Does it help to get more marks?
Ans .Yes, I draw diagrams in Eco. And E.C.  paper.  It is not mandatory to draw diagrams  but charts and diagrams make the answers more elaborative.  It also helps to get more marks as it makes the answer more presentable, understandable and also increases the size of the answer.
Any specific study pattern adopted i.e. Timetable how many hours per subject, per day etc.?
Ans. I did not study every subject in each day but I make timetable for a month or a week and each day there will be one subject.  No particular time for study in the whole day at any time, I used to study that subject.
How do you fight against mood swings and distractions during exam preparation?
Ans. I am very determined person I used to set target or goals for myself to whole day and take break after completing one target.  Break is like taking coffee or reading newspaper or listening to songs or watching T.V.
If you are made the vice-chancellor of Mumbai University what changes would you like to initiate in Indian Education System?
Ans. It is very hypothetical question but if I am made the chancellor of Mumbai University then I first do a survey of all students that what they want from Indian Education system means what changes they want to make in education system.  From the survey and opinions of students I would try to complete their wishes as well as make changes in education system.  I will also try to make free education in college for poor students.  So they can also enjoy college life.  I will also try to distribute free books to them.
Many students prepare sincerely but constantly live under fear that they are not from big college/not from English Medium and eventually loose confidence. What message would you like to give these students?
Ans. I would like to give these students a message is that please have faith on you.  Don't live under fear that you are not from big college/not from English Medium so you cannot get good marks or can't make a good career.  Don't loose your confidence.  Even though I am also from vernacular medium but then also I have faith on myself as well as my capacity to study.  I put lots of effort to study in English but then I practice so much and gain confidence that I can also talk in English and write English very well.  Always remember that one important key to success is self-confidence.  An important key to self- confidence is preparation.
Through this struggle and success, what have you learned? What is the wisdom of life and competition? What is your message to the upcoming BBI students?
Ans. This journey has taught me a very positive thing, in the words of Demi Lovoto " No matter what you'r going through, there is a light at the end of the tunnel and it may seem hard to get to it but you can do it and just keep working towards it and you'll find the positive side of things."  The wisdom of life and competition is to attain knowledge and showcase it at the right time and in a right manner.
Your feedback for BBI.co.in?
Ans. It is a great platform for the students who want to make their career in banking or insurance sector.  It is good to get in touch with each other and share their state of mind.
INTERVIEW TAKEN BY ROHAN PRASAD, K.J. SOMAIYA COLLEGE