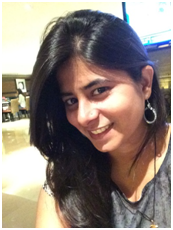 Name – Jain Nidhi N.
College Name –  S.K.Somaiya College of Arts, Science and Commerce.
Course Name – BBI
Which year –  TY
Rank in TY Sem V : 1st
GPA / Percentage: 75.49%
Tell us about yourself, your background, why did you join BBI and what do you plan to do after BBI?
A: I am Nidhi Jain, pursuing my bachelors in banking and Insurance from S.K.Somaiya College of Arts, Science and Commerce. I completed my HSC in Vocational Commerce (Banking and Insurance) from S.K.Somaiya itself. Banks and their corporate status always made me passionate to learn more about it and so I decided to specialise in this field.
How does it feel to be a Topper of the college in Semester exams?
A:  Obviously it feels amazing but at the same time it increases the burden and responsibility to be on the Rank 1.
Whom will you credit your success to?
A: The credit first goes to my Parents for supporting me always. Secondly, to all the teachers during my course of studies, all the faculties from S.K.Somaiya College to teach us what's in and what's not in the books. And last but not the least to all my friends to make me teach them at the last moment (It always acted as a last moment revision for me)
Did you start preparing from the first day of your FY / SY?
A: Strange but true, I started studying just a month before the exams.
How did you study for Sem V (Share some tips / advice for each subject)
A:  I started with the smaller chapters first because as I completed a new chapter, it made me much closer to my goal. Also I made short forms and words resembling each point or sub point to make the answer much easier to remember.
Which are the easy subjects in Sem V?
A: The Easiest of them all was Marketing. But I loved IBF and FRA much more than Marketing.
Any special way of writing the answers? Do you write answers in bullet points or in paragraphs?
A: I write my answers in bullet points as far as possible
How do you crack case studies in theory and practical subjects?
A: I like practical subjects and I'm really good it. Also I feel blessed that all the faculties I had for the practical subjects were the best at it. They made us practice enough so that we score well in our exams.
Did you draw any diagram in any paper? Is it mandatory? Does it help to get more marks?
A: Drawing diagrams aren't mandatory but yes, it does help to get more marks as it makes the answer more presentable and easy to correct.
Any specific study pattern adopted i.e. timetable / how many hours per subject per day etc.?
A: I cannot study a single subject continuously. I kept goals for each day which included some answers of each subject in my daily schedule.
How do you fight against mood swings and distractions during exam preparation?
A: For me the best way to be calm and controlling myself from distraction is listening music or sleeping for a while or sitting near the window and watching out, It just makes me forget everything else.
If you are made the Vice Chancellor of Mumbai University, what changes would you like to initiate in Indian education system?
A: Firstly, I would like to introduce more specialised and specific areas of studies. Also, I would like to include more of practical and case studies including research so that students could actually understand the application of their studies in their actual life.
Many students prepare sincerely but constantly live under fear that they are not from big college / not from English medium and eventually lose confidence. What message would you like to these students?
A: for those who think as written above- there's nothing like big or small, it's just our perception. Put your 100% efforts and you'll get the results for the same sooner or later.
Through this struggle and success, what have you learned? What is the wisdom of life and competition? What is your message to the upcoming BBI students?
A: , I would just like to convey the message that there will be some moments during these three years of your college life when you 'll get chance to prove yourself and improve your abilities, just don't miss them having any negative thinking in your minds because they might be the turning points of your life, you never know what's on the other side J
Your feedback for BBI.co.in?
I think it's a great attempt to encourage students and provide them with a podium to express their views and convey their messages